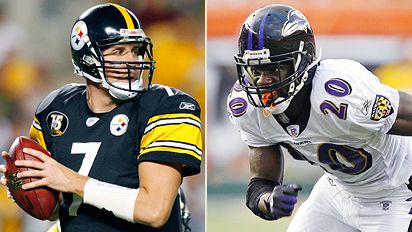 Tonight Pittsburgh takes center stage in the NFL as we host Monday Night Football. And even though MNF isn't what it once was back in the days of Dandy Don, Frank Gifford, and Al Michaels (and the new hosts are just awful) it is still an honor to have MNF in our town. The Steelers will get showcased in a special way and they are playing their number one rival (and my most HATED team of all time) the Baltimore Ravens...BOO!

Last year the Ravens humiliated us not once but twice and it is time for some redemption in da burgh. Not to mention that if we lose we enter into a three way tie for the lead in our division...and we don't want that!

So wherever you are, help me cheer the Black and Gold onto victory...especially in the latter parts of the second half when I cannot guarantee I will still be awake!